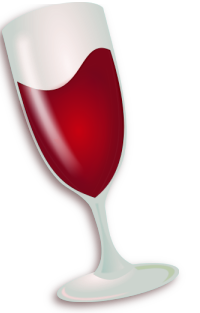 Wine 1.5.26 per Mandriva Rosa2012.1 e Rosa2012.0lts.
Nuova release per il "non-emulatore" di windows.
Home: http://www.winehq.org/

Quello che c'è di nuovo in questa versione di sviluppo:

The Wine development release 1.5.26 is now available.

What's new in this release (see below for details):
  - OpenGL support in the Mac driver.
  - Clipboard and drag&drop support in the Mac driver.
  - Improvements to the URL cache.
  - Some fixes for ARM binaries.
  - SPARC platform no longer supported.
  - Various bug fixes.

----------------------------------------------------------------

Bugs fixed in 1.5.26 (total 49):

   1886  windows media player 9 setup fails while registering Portable Media Serial Number Service
   9548  pxtone: Can't save new project files (*.ptcop), or *.pttune
  11342  NFS3 demo version does not uninstall
  12832  Propellerheads reason 4 works a lot slower than on WinXP
  13155  msvideo problems when running M1.EXE
  13194  Gordian Knot unable to open codec settings dialog
  14140  Entropia Universe installer hangs
  14421  Wing Commander 3 Kilrathi saga edition. Sound Stutters on movie playback
  16263  Priority: Survive game window flickers
  16975  [StrongDC++] switching between tabs show background windows
  17680  nhOneClick: Authorization required message on some HTML pages
  20637  3DMark 2000, 2001SE - no result of last test
  21655  MacOS: broken mixing in dsound8 tests + assertion failure
  22793  JumpGate: The Reconstruction Initiative glitches badly.
  23100  BURRACO: startup error and then closing connection (needs mshtml.HTMLElement2_insertAdjacentElement impl)
  27003  Latest gnutls breaks wine ssl support
  27210  MCM2: wineqtdecoder crashes after intro
  27320  sims3 crashes after a while in wined3d
  27466  Listview redraw is broken
  27854  Listview: custom draw code overwrites text background color when it shouldn't (it seems)
  27855  entry field in Quicken98-2002 follows keys rather than filling out field
  28039  IAudioClock_GetPosition must ignore underruns (MacOS)
  28723  Sound stutter in Rage when emulated windows version is set to "Windows 7" (XAudio2 -> mmdevapi sound output path)
  28856  Crackling/popping sounds in Starcraft 2 (PulseAudio)
  29274  Steam on Mac - mic test fails and crashes Counter Strike 1.6
  30071  Need a CreateTimerQueueTimer that is stable over time
  30591  Houdini 12.x (3D animation tool) crashes due to unimplemented function msvcrt.dll.__pxcptinfoptrs in "purist" mode (builtin msvcr90)
  31383  Might and Magic Heroes crashes with GL_INVALID_OPERATION
  31920  ComboBox in a program written with Delphi is shown incorrectly
  32276  Railworks 3 2013 Trainsimulator glsl errors.
  32302  Endless Space >=1.0.25: crash during advanced game
  32427  Delphi listview: wrong font when using custom draw
  32541  Endless Space crashes when activating certain options in the menu
  32766  Multiple applications ported to WinRT/ARM require msvcr110.dll (Miranda IM)
  32960  Unimplemented function user32.dll.UserHandleGrantAccess
  33045  Bunch of Heroes freezing on start at the beginning of the intro video
  33054  Enterprise Architect 10 fails to load EAExample.eap poject
  33083  Magic: The Gathering Online Wide Beta installer crashes with X error
  33090  Apache Flex SDK Installer: can not access file system.
  33102  Drakensang exits with error messages
  33110  AudioSurf crash on start
  33144  DnsQuery_A API returns DNS_ERROR_BAD_PACKET when querying for MX records.
  33151  .NET 2.0 program crashes eInvalidOperationException on startup mscorwks
  33152  GetAdaptersAddresses reports incorrect address family for IPv4 addresses
  33168  Disciples: Sacred Lands crashes on start
  33169  Total Annihilation : Kindoms crashes
  33197  Multiple applications ported to WinRT/ARM using msvcr110.dll require some msvcrt math functions (Audacity)
  33198  Multiple applications ported to WinRT/ARM using msvcr110.dll require msvcrt.setjmp
  33200  AliWangwang: needs unimplemented function atl100.AtlSetPerUserRegistration
Per installare wine32 su mandriva 64 bit occorre abilitare temporaneamente i repo a 32 bit.

Pacchetti :
Progs:



wine-1.5.26-69-mib
wine32-1.5.26-69-mib
wine-devel-1.5.26-69-mib
 
wine64-1.5.26-69-mib
wine64-devel-1.5.26-69-mib
Porting di grissino
Build: grissino.